Over the last four years, Finance Minister Jim Flaherty has tightened mortgage lending rules in an attempt to slow down the red-hot housing market, especially in Toronto and Vancouver where prices have hit records during the last decade, propelled largely by low interest rates.
That, combined with surging supply of new condo projects, has definitely sent a chill through Toronto's highrise housing sector since last summer, but demand for lowrise houses shows no signs of letting up.
Unlike Condos that have seen a large new supply of newly built buildings come to market in the downtown core, there was a very limited supply of new bigger properties like townhomes, detached and semi-detached and buyers are finding it extremely hard to find suitable properties within reach of the downtown core.
The biggest supply-demand imbalance right now in the GTA is for semi-detached homes priced between $500,000 and $700,000 in areas like Roncesvalles and Leslieville.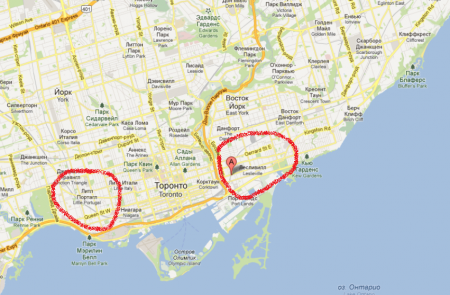 Although home sales were down 11.5 per cent and listings up slightly as of mid March over a year earlier, unrelenting competition among buyers for too few properties for sale — especially in the City of Toronto — saw prices jump 6% across the GTA, according to the Toronto Real Estate Board.
Semi-detached homes sold for an average $622,044 in the City of Toronto in mid-March, up a whopping 12.2 per cent from a year earlier (they were up just 2.9 per cent in the 905 regions to $398,328.)
Detached homes climbed by 7.2 per cent to an average $909,910 in Toronto, outpaced slightly in the 905 regions were a 7.7 per cent climb saw average prices hit $603,797. Townhouses in the 416 region climbed by 8.2 per cent in mid March year over year to $447,460, compared to an almost seven per cent increase in the 905 regions to an average $375,420.
Even the cooling condo sector, where resale condo sales were down almost 10 per cent in mid-March year-over-year and listings have been climbing, saw price growth of 1.9 per cent in the City of Toronto, compared to just 0.2 per cent in the 905 regions.
"We're seeing a major culture shift and a complete redefinition of what's desirable and the (housing) market is reflecting that now," says veteran urban planner Ken Greenberg.
"There is a new North American dream, and it's no longer to have the suburban house and the fleet of cars. It's living where you can buy your groceries on foot and you have access to transit."
"We're not seeing as many first-time buyers getting into the market right now because of affordability, but there is a considerable pool of people who have bought over the past 10 years and have outgrown their condominiums," says Shaun Hildebrand, CMHC's Toronto market analyst.
"There is strong demand for move-up properties fairly close to the core."
At the same time, demand for downtown rentals unlike anything seen in the last 20 years has driven rents to mortgage-like levels and is starting to tip the balance in favour of owning, given slipping condo prices and low interest rates. source