Many Canadian cities like Toronto, Calgary and Vancouver, are rated among the most desirable and highest quality of life places to live in the entire world based on such criteria as health care, education, public transit, diversity, and green spaces, it's no wonder that it makes sense from an investment point of view to purchase Canadian property from abroad.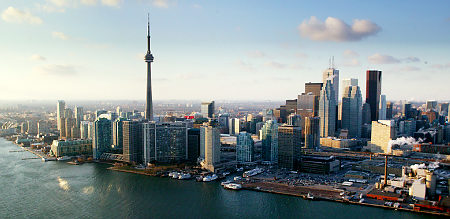 Interested in the Toronto Real-Estate market? buying Toronto real estate is fairly easy for foreign buyers, here are the basics you should know:
The process
1) Initial contact:
Get in touch with us, we will discuss your goals (financial investment or personal use), particular requirements, desirable neighborhoods and type of real-estate (Condo, house or a townhouse)
2) Search and Initial visit:
We then launch the search process. We will screen the market for the best available options and send you listings that match your criteria. You will have the opportunity to preview properties online
Our clients usually prefer to come Toronto for a visit to get a personal feel for the different Toronto neighbourhoods, refine your search criteria, ask questions and enjoy the city. During the visit we usually:
a. tour properties
b. open a bank account
c. meet the lawyer
d. go for a few drinks
3) Making an offer:
Once we found the property you would like to buy, we need to make an offer. This is a fairly standard process that can be done over email or fax so you do not have to be physically in Toronto. We will prepare the initial Agreement of Purchase and Sale, that will have all the details of the proposed transactions. There could be a few rounds of negotiations, where we go back and forth with the seller negotiating the price and terms
4) Provide the deposit and waive conditions:
To make your bid binding you will need provide a deposit – usually up-to 5% of the purchase price. The deposit is going to be held in a trust account of the brokerage until closing.
Your offer could be conditional on such things as:
a. Financing condition – usually a few days for the buyer to confirm with its bank that the property will
qualify for a mortgage
b. Home inspection (for a house purchase) – the buyer will have a few days to invite a home inspector (at the buyers expense) to check property for various defects
c. Status certificate (for a condo purchase) – this is a document prepared by the buildings property management company that summarizes the financial status of the condo corporation and other legalities
Once we are satisfied with all the documents we can waive the conditions and the Sale and Purchase Agreement becomes firm and binding.
5) Closing the Deal:
This is the big day! This is the point where all the obligations have been met, the seller will deliver the key, the lawyers will take care of all the paper work and you will transfer the funds to pay for the property.
If you are taking a mortgage, Canadian lenders usually require that you are physically present at closing. If you are paying cash for your transaction, you could arrange for a Power of Attorney so that your lawyer could close the deal with you being present.
Financing
Most foreigner buyers acquire their properties for cash, however, for those interested in adding leverage to their investment, it is possible to take a mortgage at attractive rates.
Although there have been recent changes to regulations which made qualifying for a mortgage tougher, it is still possible to obtain financing from Canadian lenders. The usual requirements are:
– At least 35% downpayment
– Verification of source of funds (proof the money is "clean")
– Proof of income (show employment of business income to demonstrate ability to meet mortgage payments)
An important first step to buying a house or condo in Toronto is finding out how much the bank is willing to lend you. The process is called a "pre-qualification (or pre-approval) for a mortgage". Mortgage pre-approval will ensure that you know how much mortgage you can get, which will help you know what price range of homes you should be targeting in your search. It also allows eliminate the risk and uncertainty of financing once you find your perfect property.
Taxes
As with any financial investment, it is important to consider all tax implications.
Just like Canadian citizens, foreigners pay a Land Transfer Tax and if the property is located in Toronto (as opposed to the greater Toronto area) the buyer will also pay a Toronto Land Transfer Tax. The tax rate increases with the property price.
If you plan on renting your property, you will also have to remit 25% of gross rent amount. If you would like to pay taxes on the net amount, you can file a special form with the
Canadian Revenue Agency (CRA).
When selling your property, you will need to comply with all CRA guidelines and pay taxes on the capital gain.